New Blood
offers a fresh interdisciplinary look at feminism-in-flux. For over three decades, menstrual activists have questioned the safety and necessity of feminine care products while contesting menstruation as a deeply entrenched taboo.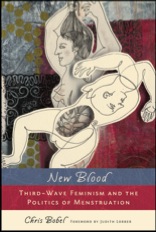 Chris Bobel shows how a little-known yet enduring force in the feminist health, environmental, and consumer rights movements lays bare tensions between second- and third-wave feminisms and reveals a complicated story of continuity and change within the women's movement.
Through her critical ethnographic lens, Bobel focuses on debates central to feminist thought (including the utility of the category "gender") and challenges to building an inclusive feminist movement. Filled with personal narratives, playful visuals, and original humor, New Blood reveals middle-aged progressives communing in Red Tents, urban punks and artists "culture jamming" commercial menstrual products in their zines and sketch comedy, queer anarchists practicing DIY health care, African American health educators espousing "holistic womb health," and hopeful mothers refusing to pass on the shame to their pubescent daughters. With verve and conviction, Bobel illuminates today's feminism-on-the-ground—indisputably vibrant, contentious, and ever-dynamic.
More on New Blood and Menstrual Activism
Here's a sampling of some of the innovative visual and text materials menstrual activists I encountered while doing my fieldwork for New Blood. Click on
each image
for more information. Also see these print materials.
To order, visit:

Rutgers University Press
Amazon