INTRODUCTION TO PHILOSOPHY
CV
LINKS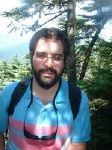 PETER MARTON
INSTRUCTOR

PHILOSOPHY DEPARTMENT
UNIVERSITY OF MASSACHUSETTS, BOSTON
---



ANNOUNCEMENTS


SATURDAY CLASS: For our last meeting please read at least one of the following two articles from The Mind's I:

Borges: The Circular Ruins;
Lem: The Seventh Sally


Please, keep in mind that you have to turn in your last essay during the next week. There will be no late penalty for papers submitted on Thursday, December 11. If you have any question concerning either the writing assignment or any other academic issue, please do not hesitate to contact me.




---



OFFICE HOURS:


Tuesday, 11:45 - 12:45, or by appointment
at Wheatley Building, 5th floor, Rm. 40


click here to e-mail me

---

&copy This La Folia variation was written by Mr. Balazs Bencze who generously permitted to use it on this web-site.