"Natural Magick Books"
Book Store



Libri Polygraphiae VI. [with] De Septem Secundeis, id est, intelligentiis, sive Spiritibus orbes post Deum moventibus
By Trithemius, Johannes & Giovanni Battista della Porta.


8vo. 4 Works in 1 vol. 612; 90;54;[2 blank];[16],275 (corr, 271), 24,[12]pp. Contemp. elaborately blind-tooled pigskin over boards in center cameo design with armorial center-piece, rubbed; edges blue-green, some even paper aging, old signature on t.p. of Sigilla, some old notes on illustrated leaves at end of the Porta; the Trithemius pamphlets are cut large to fit the format of the other works with some edges shorter than others from being untrimmed, the leaf before the Porta is cut probably from having the folding plate removed; very good copy. Folding table to Polygraphiae; text cuts to Porta. TRITHEMIUS: Polygraphiae:This widely celebrated work and when through a number of editions and translations. "It should be noted also that Trithem was not only the first author to have written a comprehensive dissertation on crytography, the Polygraphia, a work which became the basis upon which many later writers have worked, but in addition he possessed such a good knowledge of Tyronian notes that Dom Tassin and Dom Toustain, the authors of the Noveau Traité de Diplomatique felt called upon to attribute to him the honor of having been the first to have published and to have interpreted some of these notes." Galland p184. De Septem: This work on the seven secondary gods or intelligences or spirits moving orbs...traces the history of the world from the creation to the year 1879 A.D. by relating successive periods of 354 Arabic or 343 Christian years to spirits of the seven planets..." Thorndike VI,441. Sigilla: "Très rare traité sur la philosophie occulte des sceaux et images magiques, leur influence et la façon de les faire." Esoterica p512. (Not listed in Sinkankas). This is apparently the First Edition of this work. PORTA: "This celebrated work is of encyclopedic nature. Book I deals with the cryptographic knowledge of the ancients; Book II gives 180 examples of the ciphers of his period; Book III is a treatise on deciphering...Book IV contains very useful tables of various combinations of syllables and words. The importance and value of the contributions of this mathematician of Naples, inventor of the camera obscura, have been commented upon by many of the most noted workers in the field of crytography:
$5,500.00





Natural Magick
By John Baptista Porta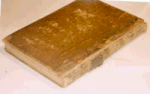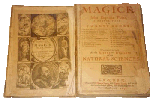 "Printed for Thomas Young, and Samual Speed; and are to be sold at the three Pigeons, and at the Angel in St. Paul's Church-yard. 1658." Original. 409 pages. Top cover separated, title page missing. Page wear, minor worming. Most delightful and browsable of scientific books, yet most valuable by virtue of its content and historical significance, Natural Magick was a best-seller from its first appearance. The very title give an indication of the book's peculiar charm and durable popularity. It gives also a warning to the modern reader that he must have his full historical senses about him if he is not to be misled by words and thoughts that have changed their fabric in three or four centuries.
$17,500.00

De distillatione lib. IX
Giovanni Battista della
PORTA, Giovanni Battista della: De distillatione lib. IX ; De distillatione lib. IX Early Books Quibus certa methodo, multiplicique; artificio, penitioribus naturae arcanis detectis, cuius liber mixti in propria elementa resolutio, perfectè docetur. Rome Ex Typographia Reu. Cameræ Apostolicæ 1608 First edition. "As Rare as It is Beautiful" PORTA, Giovanni Battista della. De distillatione lib. IX. Quibus certa methodo, multipliciq[ue]; artificio, penitioribus naturæ arcanis detectis, cuius liber mixti in propria elementa resolutio, perfectè docetur. Rome: Ex Typographia Reu. Cameræ Apostolicæ, 1608. First edition. Small quarto. [20], 154, [6] pp. Woodcut arms of the author on title, full-page engraved portrait of the author by I. Laurus on verso of leaf **1, woodcut printer's device on verso of last leaf, and thirty-six woodcuts in the text. Decorative woodcut initials and tail-pieces. Ruled in red. The text is preceded by laudatory epigrams in Hebrew, Greek, Chaldean, Arabic, Slavonic and Armenian, each with accompanying Latin translation. Later seventeenth-century calf. Rebacked at an early date, retaining the original spine. Gilt triple-rule border on covers, gilt spine with raised bands, gilt board edges, marbled edges. Bookplate of The Horticultural Society of New York (Bequest of Kenneth K. Mackenzie October 1934) on front pastedown and embossed stamp on I4 (pp. 71-72). An exceptionally clean and bright copy. Housed in a quarter dark brown clamshell case. "Porta published in 1608 at Rome a work on distillation, its methods, apparatus and applications [an expansion of the section on distillation in Book X of the enlarged edition of his Magia naturalis (1589)], which is of interest as giving a more comprehensive view of the applications of distillation in the sixteenth century than is found in any other work of the period…[It] is divided into nine books, dealing successively with the kinds of distillation, the methods and apparatus for distillation in general, furnaces, retorts, condensers, etc.…The distillation of alcohol from wine, and the preparation of certain oils of animal origin are also given, musk, civet, beaver, scorpion, etc." (Stillman, The Story of Early Chemistry, pp. 350-351). The many fine woodcuts include some curious ones depicting pieces of apparatus likened to different animals.
$17,500.00


Next Page

SciFi Mags || Antiquities || Reference ||Editor/Producer || "Natural Magick" || Book Store || Order