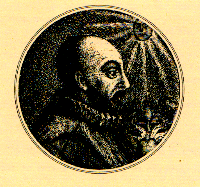 Magiae Naturalis Libri Viginti
By Giovanni Battista della Porta

Porta, Giovanni Battista della.: Magiae Naturalis Libri Viginti…. ; [bound with] ] Donati, Giovanni Battista. Rei Medicae Studio Stipendia Sex…. Frankfurt: Apud Andrae Wecheli heredes, 1591. [and] Frankfurt: Apud Joannem Wechelum, & Petrum Viscerum, consortes, 1591. 8vo: [36], 669 pages. Wood-engraved diagrams and vignettes in the text. [and] 8vo: 112, 360 pages. Contemporary half pigskin and boards tooled in blind, a bit of rubbing and wear, slight internal soiling, light dampstain near lower edge, occasional contemporary underlining and notes. Magiae Naturalis, the first book of Giovanni Battista della Porta (1535-1615), is also his best known work and the basis of his reputation. The first edition, which consisted of four books, appeared in 1558; this expanded edition of twenty books was first published in 1589. "It is an extraordinary hodge-podge of material representing that unique combination of curiosity and credulity common in the late Renaissance. But combined with the author's insatiable desire for the marvelous and apparently miraculous is a serious attempt to define and describe natural magic and some refined application of both mathematical and experimental techniques in science. Book XVII, on refraction, is the basis of the attribution of priority to Porta in inventing the telescope and demonstrates his involvement with both theory and practice."
$3,200.00


De Aeris Transmutationibus Libri IV
By Giovanni Battista della Porta

PORTA, G.B. della. : De Aeris Transmutationibus Libri IV. ; Rome, B. Zannetti, 1610. 4to. (8) + 211 + (5)pp. With 1 folding table. Numerous woodcut diagrams in text. Greek & Arabic verses at beginning. Dedicatee's arms on title. Old vellum. First edition of one of Porta's rarest works on the properties of air and all aspects of meteorology including chapters on earthquakes and hot springs, and also on the origins and effects of lightning. Some light toning but generally a good copy from the Arata Collection with stamps and signature on title; 3 initials handpainted in red and green.
$4,200.00


Magiae Naturalis
By Giovanni Battista della Porta

Porta: : Io. Baptistae Portae Neapolitani, Magiae Naturalis [...] In Quibus Scientiarum Naturalium divitiae, ; & deliciae demontrantur [...] Francofurti [Frankfurt] Apud Andreae Wecheli heredes, Claudium Marnium, & Ioann. Aubrium. 1597. 8vo. pp. [xxxvi], 669, [i]. With woodcut device to title, and with a number of woodcut diagrams in the text. Waterstaining at intervals throughout, mostly marginal, and with some spotting and browning. Contemporary limp vellum, somewhat soiled, the upper cover exhibiting faded arithmetic where a former owner had no scrap paper to hand. Porta was the inventor of the Camera Obscura. This particular work deals with a fascinating array of subject matter. Chapter headings range from De variis animalibus gignendis, through De metallorum transmutatione and De gemmarum adulteris to De mulierem cosmetice, and concludes with a chapter on Chaos.
$3,800.00

I Tre Libri de Spiritali

By Giovanni Battista della Porta

Porta, Giovanni Battista Della.: I Tre Libri de Spiritali. ; Naples: Gio. Iacomo Carlini, 1606. Squarish 8vo, modern full morocco, marbled endpapers. Neat handstamp of the Roy G. Neville Historical Chemical Library on the front pastedown. An important book on the steam engine by Della Porta, an Italian natural philosopher, ca. 1538-1615. First Italian edition of this work and the first appearance of the illustration on page 75, celebrated in the history of the steam engine. Many illustrations in the text. Wolf, History of Scinece I, 544: This machine used steam pressure to expel liquid, whereas Hero used the pressure of expanding air. Porta had thus introduced something new. . .
$1,875.00


Previous Page / Next Page

SciFi Mags || Antiquities || Reference ||Editor/Producer || "Natural Magick" || Book Store || Order

--------------------------------------------------------------------------------