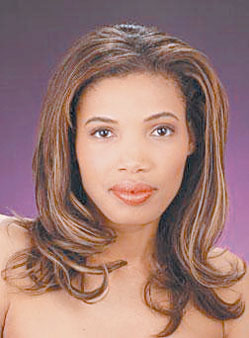 by Latoyia FOSTER
Brian Thompson's home page / Earthen Vessels / Tutoring Program / grants / camp / 20th anniversary celebration / Job Descriptions / contact: brian.thompson@umb.edu or mcthmpsn@yahoo.com
Latoyia Foster is a News Anchor/Reporter working in Springfield for the NBC-TV affiliate and also Miss Massachusetts USA 2002.She hopes to one day host a talk show honoring "do-gooders." Some of the organizations for which she volunteers include Lowell Career Pathways, Boys' and Girls' Club, The Bell Foundation, the NAACP, the Walk for Hunger in Boston, the Muscular Dystrophy Association, the Lifelinks Adults with Disabilities, the Salvation Army, and Cambodian Mutual Assistance Association.
Latoyia was scheduled to speak at EV's annual dinner at the Hôtel Méridien. Excerpts of her talk follow, as printed in our Earthen Vessels News (fall 2002).
First and foremost I want to express my deepest apology. I was looking forward to seeing old friends and making new ones as well. I want you to know that although my body is forced to work at my News Station in Springfield... my HEART is with you tonight in Boston celebrating the phenomenal program of Earthen Vessels.
For those of you who don't know, my name is Latoyia Foster. And before I became Miss Massachusetts USA 2002 or a News Anchor&emdash;I was proud to be an Earthen Vessels Camper and Tutee. There is no denying that the woman I am today is a direct result of many Earthen Vessels experiences.
I was born and raised in one of the most dangerous housing projects in Massachusetts. It was normal in my neighborhood for police to find dead bodies in abandoned buildings. It was normal in my neighborhood for people to overdose on drugs or stab and shoot each other. Most "outsiders" were afraid to drive through my neighborhood&emdash;even during the daytime. I guess when I saw the Earthen Vessels van filled with Harvard students and their fearless leaders, Marie-Claude and Brian, driving through those scary streets&emdash;I should have known that I was dealing with a group of 'heroes.'
I first met the people of Earthen Vessels when I was 12 years old. It is so funny because when I left my neighborhood to travel to Vermont for camp, I remember secretly shedding a few tears. The ironic thing is that when it was time to leave camp, I remember openly crying because I had enjoyed myself so much and did not want the good times to end.
When I think back to my Camp experience, my mind is filled with a blur of activities: mountain climbing, meditation, chores, volleyball, swimming, ping-pong, plenty of singing, and spiritual education. At age 12, I thought those activities were just part of 'camp fun.' I did not realize I was laying down the foundation for my success later in life.
My first example of how the Earthen Vessels experience carried over into 'regular life' came in the fall right after camp had ended. 'EV' connected me with a tutor from Harvard University. She was smart, pretty, and liked to help kids. Those were things I wanted to be later, at her age. A short-term goal of mine at age 12 was to gain admittance into Boston Latin Academy, a prestigious college preparatory high school. A year earlier, I had not scored high enough to pass the entrance exam. Yet, after working together for 18 months, my tutor and I moved me to the point where I passed the entrance exam with flying colors. I ALWAYS had the potential and intelligence to pass the exam. Yet my increased support system from Earthen Vessels made it impossible for me to fail.
Ever since I can remember I have loved to perform in front of people. I especially enjoyed acting&emdash;it provided me with an escape from my 'not-so-nice' environment. As a matter of fact, during my first year of Camp, I choreographed an elaborate dance performance for the talent show. I remember the camp counselors and directors cheering me. Those same 'Earthen Vessels faces' were in the audience when I joined a theatrical troupe at age 14. It is almost too embarrassing to watch the old videos of those performances. Yet, no matter how good or bad my performance was, my Earthen Vessels family of tutors and tutees would fill up a whole section of the theater cheering me on. The people of EV always made me feel like a star. Even as a young adult, I felt they could see past the superficial stuff, and saw the potential for greatness inside me. This support system, along with that of my family, gave me the confidence I needed to believe that no matter what my financial circumstances were at the time, I was going to attend college and do great things with my life.
As I began to plan for college, I knew that I wanted to pursue a career in broadcast journalism. For me, the career combined my two favorite activities: public speaking and writing. My heart was set on attending Emerson College&emdash;nationally recognized for communication studies. It is one thing to want to attend a college, but it is quite another thing to score high enough on the SATs to gain admittance into the college of your choice. I worried about this stuff all the time during my junior year in high school.
My fears were put to rest, however, because my tutor went above and beyond the call of duty to help me prepare for the SATs. With her own money, she bought me study tools. Then when it came time to take the exam, I realized that I did not have transportation to get to the Testing Center. Again, Earthen Vessels came to the rescue. I'll never forget how Earthen Vessels staff members volunteered their weekend to take us to and from the SAT exam... I was accepted at all five of the colleges I had applied to. Sticking to my goals, I moved into my Emerson College dormitory in the fall of 1994... with a little help from my EV friends.
It was a roller coaster ride of emotions during my first year at Emerson... I wanted to succeed as a tribute to my amazing mother and sweet brothers and sisters. Plus, I was keenly aware of all of the time and energy that good people like those at Earthen Vessels had invested in me. I was not going to let them down. I was not going to let myself down.
As a result, I received a 4.0 grade point average during my first semester at Emerson. I made the President's Dean's List every semester. I won a number of academic and sports-related scholarships and awards. I became a women's basketball star, earning several national rankings for rebounding and blocked shots. During my college years, I also found time to work and enjoy a healthy social life. One of my proudest moments to date was walking across the stage at the Wang Theater to receive my degree, Magna cum laude. My family was in the audience beaming with excitement for me. And of course, my Earthen Vessels family also shared in that day. It was a victory for all of us... On my graduation day, I got the call for my first broadcasting position.
It is funny because whenever I get nervous before a newscast, I still use the meditation techniques that I learned at age 12 during my time at the Earthen Vessels Camp. I've learned one thing in this world. You do not get to your station in life without the help from many generous people. I know that I have been blessed with many gifts. It is my responsibility to share these gifts with young people. The people of Earthen Vessels have laid out the legacy for me. I am so grateful that these 'self-less' individuals touched my life. I hope and pray that the program continue for generations to come.
Brian Thompson's home page / Earthen Vessels / Tutoring Program / grants / camp / 20th anniversary celebration / Job Descriptions / contact: brian.thompson@umb.edu or mcthmpsn@yahoo.com/ top