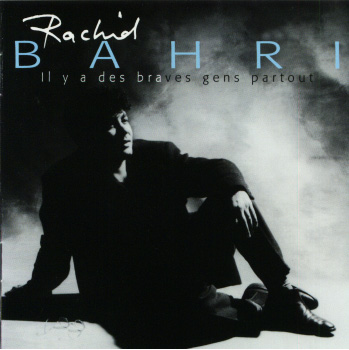 Home Page / L'Air du temps / Artists / Centre National de la Chanson
Born in 1950 in the poor Belcourt neighborhood of Algiers where Albert Camus grew up, Rachid BAHRI taught himself how to play guitar and then piano while absorbing a variety of musical cultures. He is at home singing not only in French and Arabic, but also in English: he can sing American blues with the best and plays a mean blues piano... as well as jazz, Ravel or other classical composers. He moved to France in the early 70's and quickly had the chance to play with the biggest names in music: Donna Hightower, Stevie Wonder, Steve Winwood and David Gilmore (Pink Floyd), Manu Dibango...
The product of three different cultures&endash;African, Middle-Eastern and Western&endash;, Rachid BAHRI strongly believes in the mixing of cultures and musical traditions. Decorated a Knight of Arts and Letters by French Minister of Culture, Jack Lang, Rachid continues to live in the Barbès section of Paris, France's multicultural Harlem.
Rachid BAHRI sings words that are, at times, brutal but which also express an inexhaustible tenderness for the unloved, the marginal, those who are "as brown as gingerbread." His songs are a plea for love and tolerance, with a simple profession of faith: "there are good people everywhere..." ('Il y a des braves gens partout' ). "Rachid BAHRI sings as he lives: as an ambitious poet&endash;ambitious in the good sense of the word&endash;as a fighter, curious about life and eager to show it as it is: sometimes hard ('the black pawns against the white pawns/ the city looks like a chessboard," says the song Johannesburg ), sometimes revolting ('Akoro, Akoro, this word that means nothing/among the Karamajong/it means I'm hungry'), or rich in poetry."
Rachid BAHRI 's score for the film, Bab El-Oued City, screened recently at the Museum of Fine Arts, won first prize at the Mediterranean Film Festival in Bastia (Corsica). He is often called upon for his talent as an arranger or orchestrator. His eighth personal album, Il y a des braves gens partout, came out in early 1997. "Chacun de ses albums est une pure merveille" ('Each of his albums is a pure marvel') and this latest example is no exception, and is perhaps his best yet. But Rachid really shines on stage where his contact with the audience is immediate and profound.
His show at the International Festival in Marrakech (Morocco), for example, was hailed by the press as a "miraculous event.": "BAHRI (etymologically: 'sailor'), the man of the Mediterranean, the Sinbad of émigré show-biz, had a blast that evening, and displaying as never before his immense talent, made the applause-meter of the Palais El-Badî explode. His song on Peace was moving; his swinging Arab refrains were exciting; his voice, which is raspy but which took on color that evening, was convincing; his style, his sense of measure (the right word with the right note!) were surprising; his personality, his ease on stage, his simplicity, were decisive: Rachid BAHRI is the artist, the professional which had thus far been missing in young North African song!" (Paroles & Musique )

Home Page /Artists / Centre National de la Chanson / L'Air du temps / Return to top