West Coast of North America
Although I have conducted research on the Russian colony of Fort Ross and the Spanish mission system, the majority of my research on the West Coast has focused on elucidating the experiences of California Indians who worked and lived on the 19th-century Mexican-Californian (or Californio) ranchos. The main context for examining this little understood historical and cultural topic has been Mariano Guadalupe Vallejo's Rancho Petaluma,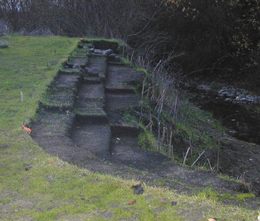 located north of San Francisco Bay and operated between 1834 and the late 1840s. With archival research in collections like the Bancroft Library at UC-Berkeley and several years of archaeological excavations at the Petaluma Adobe State Historic Park, I was able to reconstruct aspects of daily life for Native laborers on this rancho. Using food remains, stone tools, bone artifacts, industrial ceramics, glass, metal items, and glass and shell beads, I could detect the complex ways that California Indian people negotiated the colonial world of the second quarter of the 19th century. A central element in interpreting those experiences has been the concept of labor, not only as a colonial imposition but also as a context for Native identity, gender, and material struggles. Archaeology has proven critical for unraveling the social and cultural context because the archives are remarkably silent on the hundreds of indigenous people who worked these rancho properties.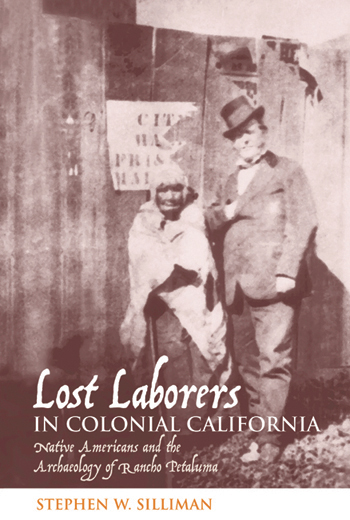 The field and laboratory portions of the Rancho Petaluma project ran between 1996 and 2000. A number of publications (digital versions of which can be found on the curriculum vitae page) address the interpretations of Native American life and labor in California. These include a book published in 2004 by the University of Arizona Press entitled Lost Laborers in Colonial California, which won the 2006 "Editor's Award for Historical Scholarship" from the Sonoma County Historical Society.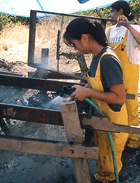 Additional information regarding the geophysical surveys conducted on-site are summarized on the North American Database of Archaeological Geophysics. The project was funded by various research and teaching sources at UC-Berkeley and the California Department of Parks and Recreation, and it had participation of students from UC-Berkeley, California State University-Hayward (now California State University - East Bay), Sonoma State University, and the College of Marin. The Federated Indians of Graton Rancheria, the local Coast Miwok and Southern Pomo community whose ancestors worked the fields and rooms of Vallejo's Rancho Petaluma, served as advisors and field consultants. For additional information about the Petaluma Adobe State Historic Park, please see their new website, the State Parks website, or an archaeology news story.