End of Europe's Middle Ages
Inferno: La divina commedia
(The Divine Comedy)
---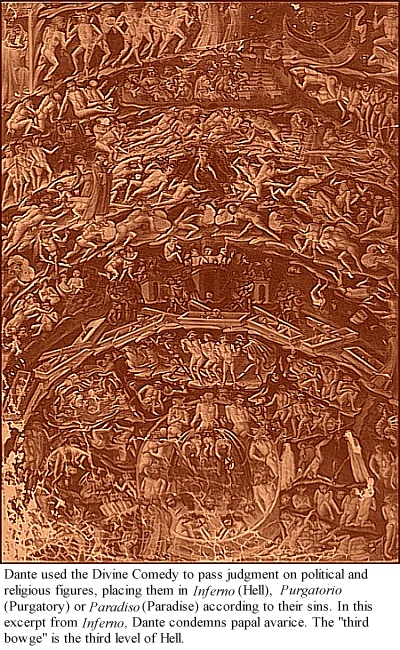 Inferno (excerpt)
O Simon Magus! O disciples of his!
&nbsp &nbsp Miserable pimps and hucksters, that have sold
&nbsp &nbsp The things of God, troth-plight to the righteousness,
&nbsp &nbsp Into adultery for silver and gold;
&nbsp &nbsp For you the trump must sound now - you are come
&nbsp &nbsp To the bag: the third bowge (pit) has you in its hold...
In The Middle Ages Volume I, pp.326-327.
---
| | |
| --- | --- |
| | Return to Language & Literature |
---
The End of Europe's Middle Ages / Applied History Research Group / University of Calgary
Copyright © 1997, The Applied History Research Group