Erick MANANA


Home Page / L'Air du temps / Artists
It was on August 6, 1996, during the Nuits Atypiques de Langon festival, that Erick Manana recorded his first personal album. Twelve live cuts of his own composition, gathered under the title Vakoka ('silver bracelet'). An hour of acoustic bliss, mixing guitar and voice, with a few touches of aeolian choruses, the sound photograph of the itinerary of a virtuoso until then in the service of others.
At 38, Erick Rafilipomanana already had a load of experience, with, at the outset, the city of Fianarantsoa, between Tulear and Tananarivo, where he lived until his adolescence, lulled to sleep by the guitar of his grandfather who played traditional melodies. It was this same grandfather who offered him his first guitar for his twelfth birthday, to replace his first instrument, a broom and string!
In Manana's treasure chest, there is also the time spent in a Protestant choir ("It trains the voice") and five years of high school in a group which worked on the repertory of the Highlands with a specialist in this genre. A solid foundation before his departure for France in 1980 (thanks to Graeme Allwright), with the group of which he was a member, Lolo Sy Ny Tariny. Once the group disbanded, Erick Manana settled in Bordeaux. With a smile: "I was supposed to continue my studies there. In the end, it's music which got the upper hand." Not without difficulty, for before he could make a living at it, he did all kinds of odd jobs... For the past six years, Manana has been accompanying Graeme Allwright, but has also been heard, and continues to be heard in concert along with numerous compatriots of the "Malgache Connection": Régis Gizavo, Solo Razaf, Justin Vali, Passy Rakotomala, Rakoto Frah. Around the latter, a venerated old master, he even founded in 1996 the group Feo-Gasy with which he recorded a remarkable album and did several European tours.
On Erick Manana'a calling card there is also the 1993 release of an album in homage to the the great Malgache poet Razilina, and participation in the essential CD, Fruits du voyage, produced by Solo Razaf. Now, there is Vakoka (released by Célia, in Toulouse), bearing witness to the rich melting pot in which the language of the artist has been refined: ba gasy style from the Highlands, modal incantations from the jijy of the north and northwest coasts, beko from the south coast, the rhythmic luxuriance from the betsiléo area, salegy from the north, maloya from the island of Réunion. For the immediate future, Erick plans to continue his career solo, "because I realized that the emotion gets through better." It is thus that, after shows in Paris in April, he could be found in June in the US and in the fall in various festivals, while awaiting a forthcoming album for which he would like to invite a string quartet, for he dreams of sharing his desires with other musicians." (Chorus, été 1997, translation Brian Thompson)
Erick Manana made his Boston début in 1997, both solo and in concert with his compatriot, Solo Razaf, a veteran of L'Air du temps in both 1995 and 1996.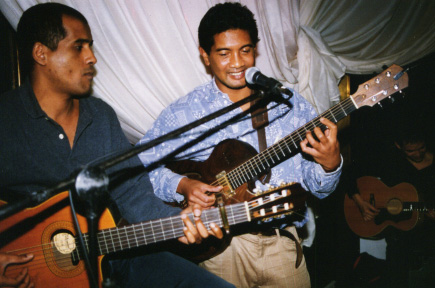 Erick MANANA et Solo RAZAF aux Zigomates (novembre 1997)
Bertrand LAURENCE se cache au fond à droite

Home Page / L'Air du temps / Artists